Resource Tuner Feature List
General Features
Working with 32- and 64-bit executable files such as .EXE, .DLL, binary .RES, ActiveX Controls (.OCX), Borland Libraries (.DPL and .BPL), XP Visual Styles (.MSSTYLES), Control Panel Extensions (.CPL), Screen Savers (.SCR) and any other win32/64 executables.
Support is provided for nearly every type of resources imaginable. The only one that can work with PNG, XML, Image Lists, and Type Library.
Easy-to-use Visual Resource Editor: a full visual environment for those wanting a different look.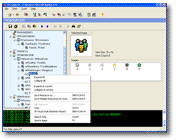 Windows executable files (EXE, DLL, ActiveX controls) can have all sorts of resources buried within them. Resource Tuner enables you to get at them to modify, save or delete them. Resources include the applications graphics, icons, cursors, dialog boxes and text. You can view resources, even playing sound and video files. You can have a lot of fun with this, especially when you start experimenting with Windows files.
Take a look at some of the best features in Resource Tuner that help you edit files easier and faster:

Feature Tour

Tutorials and How-to's

Screenshots
Advanced Features
Resource optimizing, error checking and repairing automatically performed when opening a file.
Application Manifest Wizard inserts the manifest resource in existing applications - an easy way for legacy applications take advantage of the new look for common control styles on Windows.
Automatic UPX unpacking. Now you can open files compressed with UPX even without knowing that: your file will be unpacked automatically!
Expandable! Support for custom plug-ins to perform any startup processing.
Saving multiple resources at once. No more manual repetitive tasks!
You can navigate easily through the Delphi forms, RCData, and objects, and view their contents (Image Lists, Strings List, Glyphs, Bitmaps). There's a very strong emphasis on peeking inside Delphi applications and packages.
More features — pick up your free trial to see them all!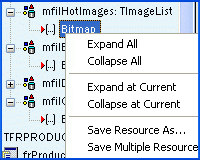 Resource Tuner offers a thorough look at all of the resources (bitmaps, jpeg, icons, strings, dialogs, PNG, PNG compressed Windows icons, XML, Image Lists, Type Library, etc) in the compiled executable file, and allows you to make modifications without needing to recompile the source code. You can view and extract images, icons, sounds, animations - all you have found in your application - on your hard disk. That makes Resource Tuner a perfect resource grabber. Don't take our words for granted, see

What Our Users Say.
Start Tuning Your Applications Now!


Once you try it, we think you will find it hard to go back to other resource hacking utilities. For maximum editing and inspecting power, purchase a Resource Tuner Personal license now for $49.95. A Business license is available for $89.95.
We Offer A Free Trial: Try The Software, Risk Free.


Resource Tuner runs on all versions of Windows from 2000 through XP, Vista, 7, 8, 10, and 11.
Minimum hardware requirements:
Intel Pentium® or AMD K5 processor with 166 MHz
16 MB RAM